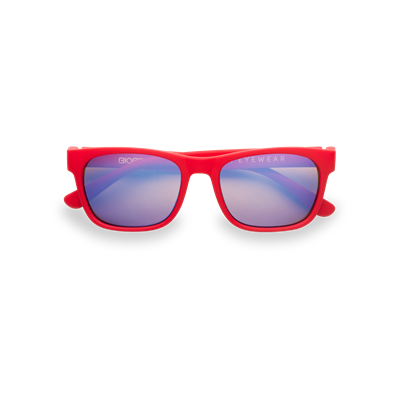 Hyperlight Eyewear, Red, MRBU, Kids
Hyperlight Eyewear Kids with colourful frames for everyday's adventures
With colourful and flexible frames designed for comfort and style, you can now offer unique Hyperlight technology to kids! Frames come in the following colours: red, blue, black, turquoise and violet colour.

Hyperlight Eyewear Kids cool line is suitable for every kid, even the youngest ones living in the digital era. Today children are glued to their electronic devices more than ever before. Unfortunately, constant excessive exposure to harmful artificial light emitted by the screens of these products has a number of negative side effects on child's eyes, vision, physical and cognitive functions.

A 2017 study from Common Sense Media reveals that among children 8 and younger:
42% own tablet devices
98% live in a household with some mobile device and TV
49% watch TV or play video games in the hour before bedtime
All spent an average of 2 hours and 19 minutes a day with screen media.
Hyperlight Eyewear technology assures kids safety for 80% of their life that is spent exposed to some form of the artificial light.
With the explosion of kid gadgets, educational apps, and creativity-sparking software, screen time with Hyperlight Eyewear will do children a lot of good without negative, long term effects to their health.
We encourage every parent to invest into their kids' future by giving them the right protection now. The world is yet to find out how really harmful such excessive exposure to artificial harmful light is from such a young age.
Hyperlight Eyewear for kids is the solution with no compromise.
Hyperlight Eyewear features:
Transforms UV and high energy blue light into green, yellow, orange and red visible light spectrums;
Transforms Blue LED light into eye comfortable light (resulting in relaxation). When transformed, UV and high energy blue light are optimized according to the natural sensitivity of the eyes;
Enables sharper vision;
Optimizes brain function (harmonizes EEG signals);
Regulates neuroendocrinology actions; increases serotonin and regulates the serotonin/melatonin ratio (which decreases depression and insomnia);
Influences the body clock – circadian rhythm (regulates blood pressure and temperature);
Additionally, Hyperlight Eyewear is equipped with the highest quality coatings:
The protective layer is installed on both sides of the lens.
Hydro and oleophobic coating: provides resistance to scratches and prolongs the lifespan of the lens. It has an easy to clean effect and an antistatic component that repels dust particles on both sides of the lens.
Patented 8 ioncoat layers: In accordance with the Ioncoat K+ procedure, eight layers of material with different index levels are applied to the lenses in a vacuum. Ioncoat K+ reduces light reflex to less than 1%, resulting in better vision.
The Hard Coat (HC) layer: aligned specially with the antireflection process and the superhydrophobic layer, it prolongs the life span of the antireflection layer and provides additional protection against scratches.
Fullerene Layer on both sides of the lens.
CR 39 Lens